Top 5 mods for your Subaru WRX & STI MY11-14.
Author: Ultrex Performance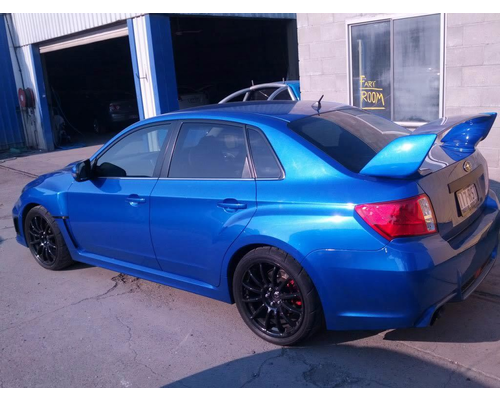 Following on from our Top 5 mods for your Subaru WRX & STI MY01-07 blog, we thought it would be a good idea to give our many WRX & STI MY11-14 wide body sedan customers a similar run through of our best mods for your Subaru WRX & STI MY11-14.
So let's get cracking. Our top 5 mods for your MY11-14 WRX and STI is as follows:
5) Sti spoiler - we think they look awesome on a WRX - the big sporty rear wing that is unmistakably Subaru... and under your existing WRX spoiler is a stack of holes. Our STI spoilers are supplied with a free blanking plate that sits on your boot and covers all of those WRX spoiler holes. Choose from either our ABS style spoiler (which is the same material the much more expensive factory spoilers are made from ) or our beautiful looking carbon fibre spoiler. Whilst the carbon spoiler is a bit dearer to buy, you do not have any painting costs as it is ready to install as we supply so it can work out cheaper than buying an ABS spoiler and then paying for it to be painted
https://www.ultrex.com.au/subaru-sti-spoiler-blanking-plate-my09-14-sedan
https://www.ultrex.com.au/subaru-sti-carbon-rear-spoiler-for-my09-my14-wrx-i
4) Short shifter - a cheap mod that really does transform the way the car feels every time you drive it. Slick - smooth and sporty. It is a great first mod that is cheap to do and great fun that you will notice every time you drive. You will love this mod - especially on a WRX 5 speed which is transformed once this is installed!
https://www.ultrex.com.au/subaru-wrx-my08-my14-short-shifter-quick-shifter
3) HSD Coilovers - the WRX & STI can be great handling cars when set up right. So grab a set of HSD Coilovers and get them installed and set up by a professional so you can get the car handling so much better. And for those that love the lowered look, HSD coilovers allow you to slam your car super low whilst still maintaining a great street friendly ride. Choose from either the Dualtech street friendly coilovers for $1299.99 or the heavier duty street / track focused Monopro coilovers for $1449.99. HSD Coilovers offer unrivalled quality, performance and value.
https://www.ultrex.com.au/?rf=kw&kw=hsd+wrx+my08
2) New wheels - At Ultrex we stock awesome looking rims that really do set off the look of the Subaru WRX & STI MY11-14. One of our favourites on this model is the Ultrex Cobra in a 9.5 inch wide wheel (+40 offset) which fits spot on without rubbing or any work. Cobra wheels will clear brembo brakes and are VIA and JWL certified - the international standard for quality rims. Not only do they look awesome - for 18x9.5 wheels, they are quite light weight at approx 10.8 kg per rim.
https://www.ultrex.com.au/?rf=kw&kw=cobra+18x9.5+%2B40
1) Ultimate Series Exhaust - These exhausts are proving themselves to be the best quality and value on the market. You can spend a fortune more on an exhaust but won't get better quality than an Ultimate series Exhaust. Whilst you can unlock the burble with a cat back exhaust - we prefer to unlock the power and burble with the turbo back exhaust. Perfect fitting - awesome sounding and great value - it will transform the car and make it a lot faster and far more enjoyable to drive every day! Keep in mind that when you install a turbo back exhaust, you should get a retune.
https://www.ultrex.com.au/?rf=kw&kw=wrx+my11+ultimate+series+sedan
We hope you like our list of what we feel are the best mods for the Subaru MY11-14 WRX & STI sedans. Feel free to email us directly via the website if you need any more information of assistance
Happy Modding
Rob
Ultrex Performance