Subaru BRZ/Toyota 86 Exhaust Systems - Ultrex Performance
Date Posted:19 July 2019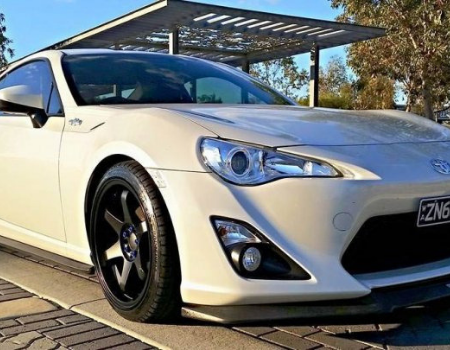 Ultrex Performance stocks a wide range of Toyota 86/BRZ Exhaust systems to make BIG power!
The Subaru BRZ and Toyota 86 are fantastic handling cars, but like most cars, they could do with more power! So when you decide its time to extract some more power out of your Subaru BRZ or Toyota 86, we have a range of quality stainless steel exhausts that will help you achieve your goal!
Ultrex Performance stock a big range of quality stainless steel exhausts, all the way from the headers to the 4 inch rear exhaust tips. Our BRZ/ Toyota 86 exhaust systems have evolved and improved over the past 6 years to our current generation of beautifully crafted Ultimate Series Exhaust systems. We now have all our aftermarket exhaust systems made exclusively for us in one of the leading exhaust factories in Asia that design for many of the major global exhaust companies and leading tuning brands. We sell high quality BRZ / 86 exhaust systems cheap - not cheap exhausts.
Our range of Subaru BRZ / Toyota 86 exhausts start with our headers. We stock many different designs of headers - whether its unequal length, equal length with cat converter or equal length with no cat converter.
Our unequal length headers are preferred by customers wanting to unlock the Subaru burble out of their BRZ/86. These unequal length headers have no cat converter and utilize full mandrel bends and tig welds throughout. You can see the quality of these in the flesh, from the cast flanges to the cast merge sections with smooth flowing internal welds and joins, these are as good as you can get irrelevant of price.
We also offer catless equal length headers with cast flanges, full mandrel bends and precision welds or our original catted equal length headers that we have sold for around 5 years to countless happy customers.
Next in the exhaust chain is the over pipe and front pipe. Our over pipe and front pipe are far more free flowing that the restrictive factory system. The front pipe is available with either anti drone resonator with vortex spiral or with high flow 100 cel metal cat...
These will both get your BRZ / 86 breathing and flowing better compared to the restrictive factory set up.
And finally the last piece of the puzzle to extract more power out of your Subaru BRZ / Toyota 86 is the cat back exhaust. Our cat back exhausts are crafted using 1.5mm thick stainless steel which is up to 25% thicker than some competitors 1.2 mm thin stainless. The thicker steel we use produces a deeper, meaner exhaust note. These systems are all crafted using full mandrel bends and tig welds throughout.
And to finish off the system, you can choose from 4.5 inch chrome tips, 4.5 inch titanium look tips or exclusive 4.5 inch black chrome tips. And should you later want a different look, just purchase a different set of tips from us and you can transform your exhaust look to something totally different.. Now that's smart and unique to the Ultrex Performance BRZ / 86 Ultimate Series Exhaust range.
Ultrex Performance BRZ / 86 exhaust systems are made using a modular design so you can add other parts to your system as you desire and combine it with some stock components.. So it's fully interchangeable/compatible with your existing factory exhaust. You can use any of our headers with your factory overpipe, front pipe or cat back... You can combine an Ultrex cat back exhaust with the factory headers, front pipe & overpipe.
It is fully modular and allows you to add extra components later as you desire.
And with a fully installed Ultrex Performance exhaust you will pick up a nicer more aggressive exhaust note and more power and torque across the rev range..
So if it's time to transform your Toyota 86 or Subaru BRZ in to a faster, louder, meaner beast, check out the Ultrex Performance Ultimate Series range of exhausts here https://www.ultrex.com.au/part-finder/2014/subaru/brz-my12-16/?cn=109&rf=cn
We also stock a huge range of aftermarket performance parts for the BRZ & 86 including front lips, side skirts, rear pods, spoilers and wheels. Check out the range at https://www.ultrex.com.au/part-finder/2014/subaru/brz-my12-16/?cn=109&df=cn&rf=cn&dfv=109
---
Leave a comment