Top 5 Best Bang for Your Buck Mods for a Subaru MY01-07 WRX/STI
Date Posted:24 May 2019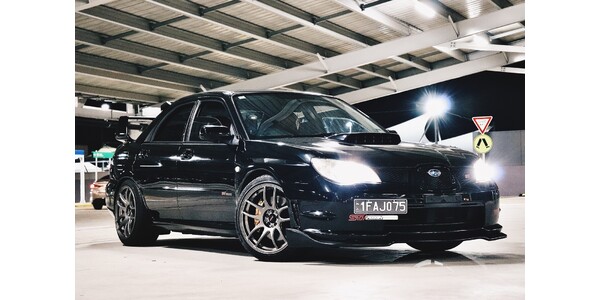 The Subaru STI and WRX are very sought after vehicles due to their high performance and affordability. Although the WRX and STI were released in the 1990s, their performance is still as good (or better) than many performance vehicles being released today.
Raw, Brutal & Fun
Many vehicle enthusiasts love the brutality and raw energy surrounding these models. With the release of newer models and versions, Subaru slowly started removing the 'animal' from the STI and WRX. The latest models are very composed, quiet, and refined. This is in stark contrast to the early models of the REX which were noisy, raw and had an awesome power to weight ratio.

The MY01-07 range is one of the best eras for the STI and WRX models. The Hawkeye, Blobeye, and Bugeye had the perfect combination of refinement and fun. Subaru implemented some necessary updates in terms of handling and technology without removing the 'animal' from the vehicle.
Why Are They So Popular?
These models are still a blast to drive on the road or track. They remain extremely popular due to their affordable price and high performance. As their prices continues to drop each year, they become an even more appealing performance car. These models are dream vehicles for modifiers who love to have a wide range of available parts from which to choose.

Ultrex Performance is dedicated to supplying the best bang for your buck parts for these models. We have compiled a list of our top 5 best bang for your buck mods that can be made to the Subaru STI and WRX models from 2001 to 2007.
Number 5: Ultrex Performance 18 Inch Wheels
The one mod that always transforms the look of any WRX or STI is a great looking set of aftermarket wheels. With the right style aftermarket wheel in the correct size, the car is transformed from a stockie to a REX that will always turn heads.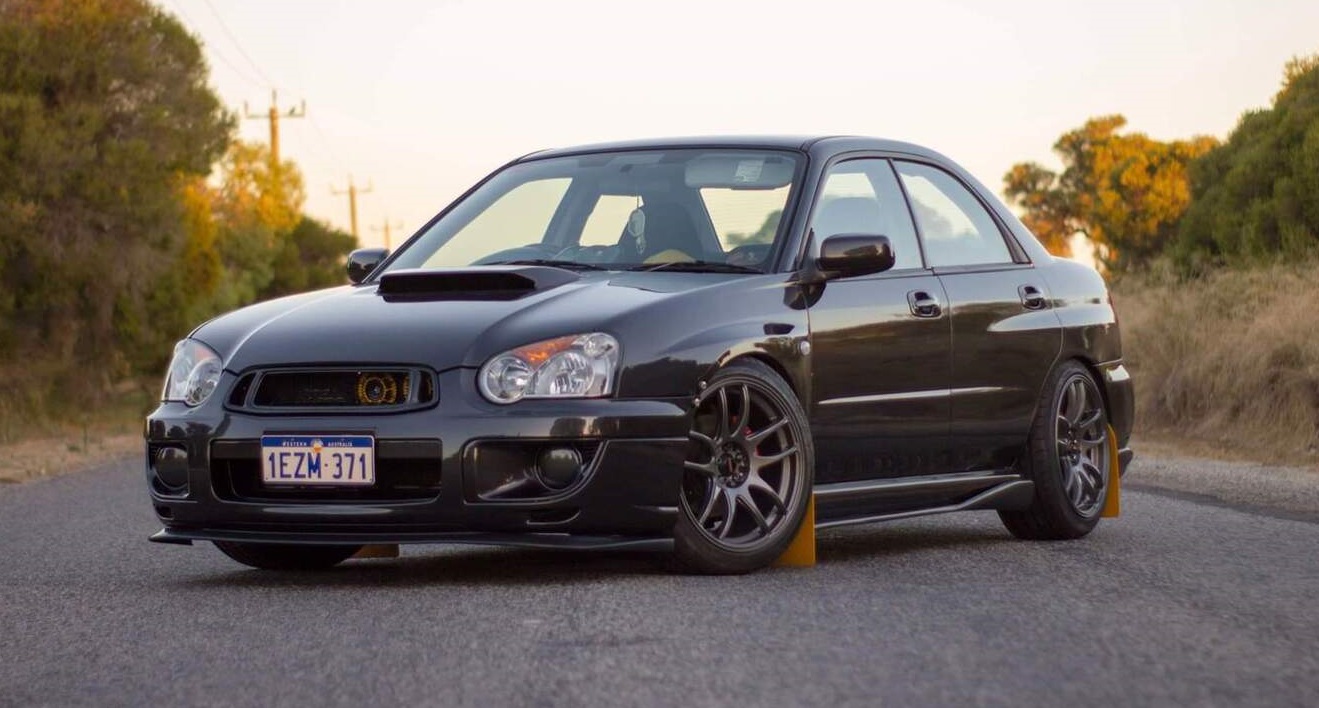 We recommend 18 inch wheels on the MY01-07 and we have a great range of hot looking wheels for these models. We stock the Ultrex RS in 18x8 inch, Ultrex Matrix in 18x8 inch and 18x9 inch, and the Ultrex Cobra in 18x8.5 inch and 18x9.5 inch. We recommend any of our wheels up to 8.5 inches wide for a sedan and up to 8 inch wide for wagons. Yes, you can fit wider wheels on these models and we do sell them in wider sizes – but generally wider wheels require camber and guard rolling. All these wheels have a price tag of $799.99 for a complete set of 4 rims and this kicks off our list of the best mods for the STI or WRX.

Ultrex Performance alloy rims are manufactured to the very highest standards – made to meet and exceed major global standards. They are very strong and lightweight. Buyers can choose from a wide range of colours including gold, white, black or gunmetal. All rims will clear Brembo brakes except the Matrix 18x9 inch. These rims will fill the guards on the MY01-07 WRX & STI and simply look fantastic!
Number 4: Bonnet Scoop
We love the look of MY01-07 STI and WRX models with the larger scoops (before they were inverted on later models). Nothing screams for attention like a big bonnet scoop. Much larger than the original factory bonnet scoops, our bonnet scoops have aggressive contours and an unapologetic size. These scoops will do more than just improve the look of your WRX and STI, they will also help increase the airflow to your car's TMIC for better performance.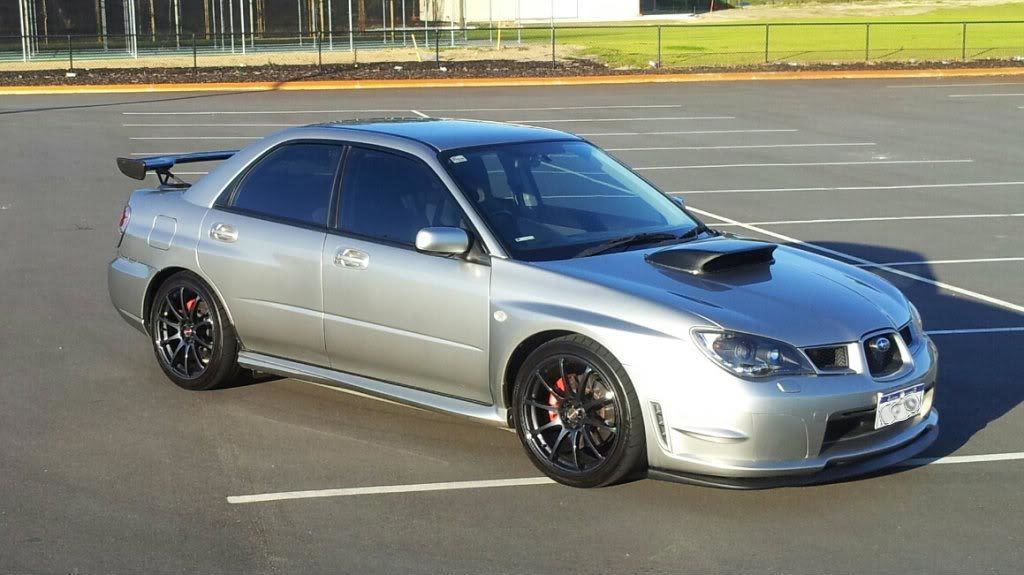 Bonnet scoops have either a carbon fibre or fibreglass finish. Although fibreglass is more affordable initially to purchase, it does require painting which generally means more cost. On the other hand, carbon fibre scoops can be installed as supplied within a few minutes and without any extra expense.
Number 3: Strut Bar Set
Although the STI and WRX are excellent cars that boast fantastic performance, these models aren't without flaws. Both models have a tendency to understeer. Ultrex's strut bar sets offer a great solution for ironing out these understeering kinks. Our Heavy Duty set is comprised of a front strut bar, an H-brace, and a rear strut bar.

These strut bars not only look great, but improve the dynamics of the vehicle handling. When installed they stiffen the structural rigidity of the WRX /STI to enable improved handling and performance. Our Heavy Duty set is strong, stiff, and durable, and will last as long as your vehicle.
They have also been designed to fit any WRX or STI sedan and hatch models. This massive bargain only costs $259.99 for the entire set. You'll love the aesthetic look of these strut bars and appreciate the better handling. With better handling, your REX will be able to cut the tightest corners and turn on a dime.
Number 2: Short Shifter
Unlucky not to be our number one on this list as it represents such amazing bang for buck value. At a reasonable $89.99, our short shifter mod is an easy pick for the number two spot. The WRX model from the MY01-07 line can benefit greatly from the installation of an Ultrex short shifter. These short shifters have the ability to transform the way the car drives. You'll notice a difference in the feel and the much shorter shift. Short shifters are a great mod to make the WRX & STI feel sportier.

This is a modification that you'll be able to enjoy each and every time the car is taken for a drive. We understand that some people consider short shifters to be potentially hazardous to gearboxes. In our opinion, driving like an idiot will be the determining factor in the durability of your gearbox. The existence of a short shifter is irrelevant.

A short shifter shortens the distance the shifter travels between the gears to make the car much more enjoyable and exciting to drive. This is a quick and easy installation that can take as little as 30 minutes in total to install. Our short shifters fit sedans, hatch WRXs and STIs.
Number 1: Turbo Back Exhaust
It took us a while to decide which modification was worth this prestigious, number one spot. We needed a product which offered the greatest bang for your buck performance gain. Although there are many mods that offer a boost in performance and handling, these mods can be very expensive and not offer a good bang for your buck return on investment! After taking a good look at the cost-to-value ratios, we decided on a worthwhile mod for the number one position: the turbo back exhaust.

The boxer engine is the essence of the classic REX model. Nothing transforms a stock STI or WRX into an adrenaline pumping beast quite like a Turbo back exhaust. A great sounding turbo back exhaust unleashes the awesome boxer sound whilst the increased power will pull you back in your seat much harder. With a free flowing 3 inch turbo back exhaust, you'll pick up extra power and torque right across the rev range and the sweet sound of the boxer burble will put a smile on your face all day long.

Ultrex Performance sells an entire range of stainless steel 3 inch turbo back exhausts. These exhaust systems are an unbeatable bargain from only $449 for the complete system including gaskets and bolts – ready to bolt straight up. However, our favourite exhaust system is the oval muffler turbo back exhaust that starts at $599 that we ran on our own WRX MY06.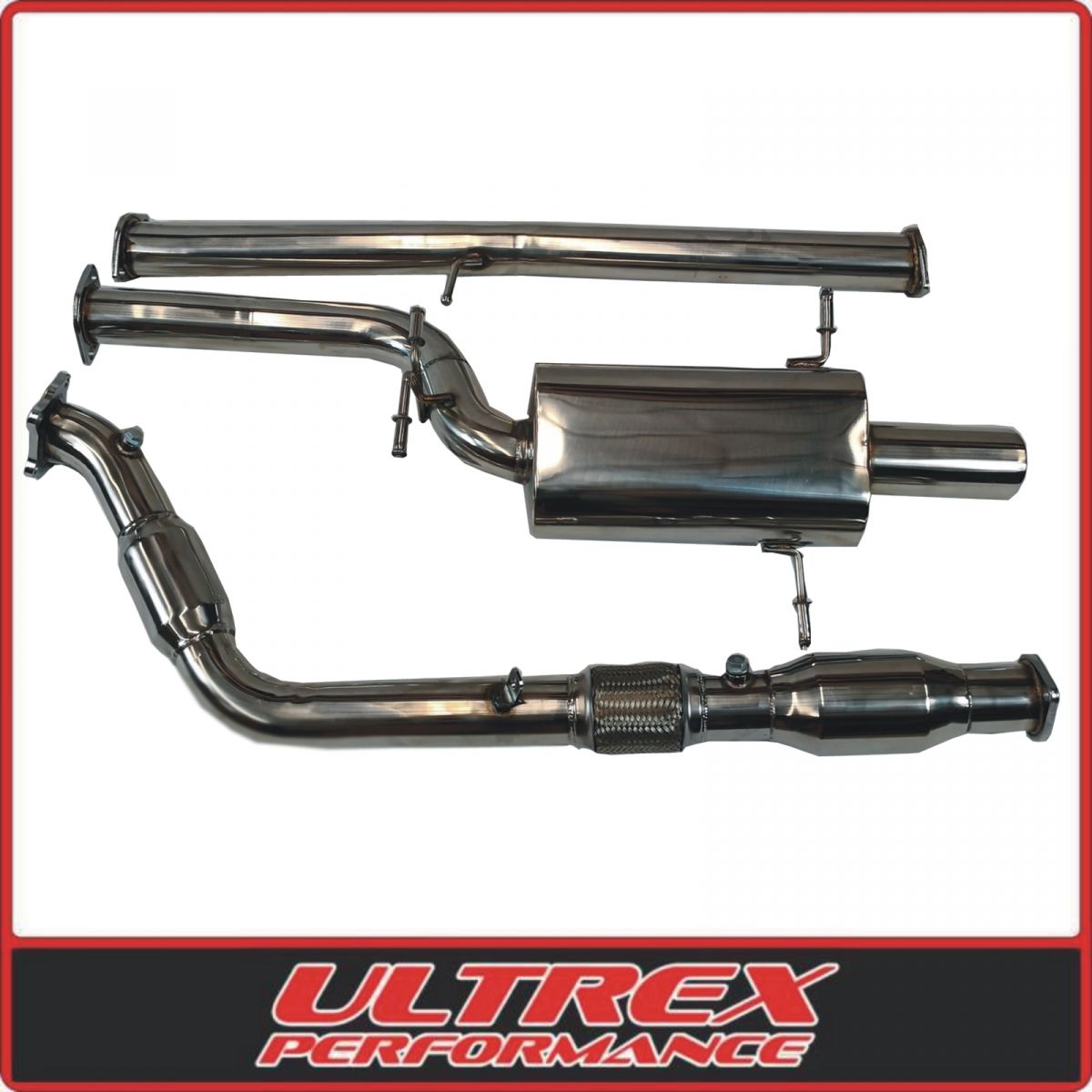 These systems provide a nice Subaru burble when driving normally and come alive – loud and angry when under full acceleration. Our Ultrex exhaust systems sit up high under the car so they won't scrape and wear out on speed bumps. With stainless steel construction, these systems will last for years without any trouble and are designed to fit sedans and hatch, STIs and WRXs.
Improve Your Subaru WRX or STI Today
At Ultrex Performance we are Subaru enthusiasts that understand the fun that a well modified car can bring. It doesn't need to be expensive to be a great mod. Our range of well priced quality parts lets modifiers get a lot more modifications for their dollar than buying expensive big name brands.
So when its time to modify your WRX and STI, check out our range of quality parts including our top 5 best for your bang mods for a Subaru WRX & STI MY01-07.
---
Leave a comment